Holistic Approach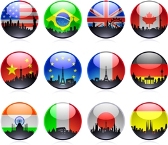 Our global research & analysis expertise ensure optimal market sizing and a solid business case you can take to the bank. Quanta's insight and trend assessment enable you to hit the sweet spot of the global & India markets at the right point in time and space. Go Global – Today!
The big picture strategy is always the starting point. Determine if globalization is consistent with your company's long-term strategy. We also work with new ventures to ensure optimal return on investment from a holistic sourcing & markets perspective – leveraging our strong networks in the US and in India.
Highlighted industry focus areas have included the following, but we provide broad sourcing, market sizing and due diligence.
Banking & Finance
Biomedical & Healthcare
Energy & Green Tech
Entertainment & Media
Social Entrepreneurship, NGOs & Rural
Telecom
Trade
Water Treatment
Global Markets
Where in the world would you have the most success in additional revenue generation?
Where can you best leverage your unique selling proposition?
Are there specific risk factors to address?
Is it worth targeting in terms of market size and potential?

Global Sourcing
Practice areas span both goods and services. On the classic services side, our experience indicates that only 20% of projects considered for offshoring should indeed be sent overseas. The other 80% are better accomplished within the company or at lower cost locations in the US. This applies to software/IT and a range of business processes that play an essential role in the regular operations of your business. On the goods areas, we leverage our partners who specialize in specific areas of logistics, supply chain, customs, risk and distribution channels.
Our risk mitigation measures enable optimal options. Our rigorous methodology analyzes the following key issues, and ensures that your expectations are consistently being met:
Infrastructure & Operating Costs
Quality & Timeliness
Risk Mitigation
Geographical & Political Environment
Intellectual Property & Data Security
Customer Perception
Financial & Tax Incentives in Target Country
Offshore Employee Turnover & Retention
Our Strategic Sourcing Practice enables sound global decisions built on a solid business case. Your ideal solution may be a captive operation, a contract with overseas & domestic vendors, a hybrid model …or even kept completely in-house. Quanta Consulting ensures discreet & comprehensive business analyses to ensure the best decisions.

Global Deals
We help craft the optimal mix of investment, strategic partners, and a competent team. Our networks span all these areas and we can enable access to funding for your global growth. Apart from investors, government subsidies & programs go a long way in ensuring success with minimal start up costs. Our partners in the government and public sector can provide additional support.